Roulette has been played for almost 400 years. Some people father the legendary wheel invention on the French mathematician Blaise Pascal. However, roulette took its modern form in Paris in the 1800s. At the same time, Francois and Louis Blanc actively popularized the game by opening casinos throughout Europe.

There are several types of the game: European, French and American. You can also find modified rules variations, including mini and pinball roulette, Triple Zero roulette or No Zero roulette. However, Golden Gate features the classic American roulette, including 37 sectors. Its rules are simple; therefore, you can master it in a couple of rounds.
American roulette basics:
Choose the type of bet - inside (on numbers) or outside (on the dedicated spot on the roulette table)
Place a bet before or after the spin of the Wheel
Betting ends three rounds before the ball falls
When the ball stops on a specific number, the croupier will mark the winning number with a special marker - dolly
Once the spinning ends, the dealer accepts new bets and spins the Wheel again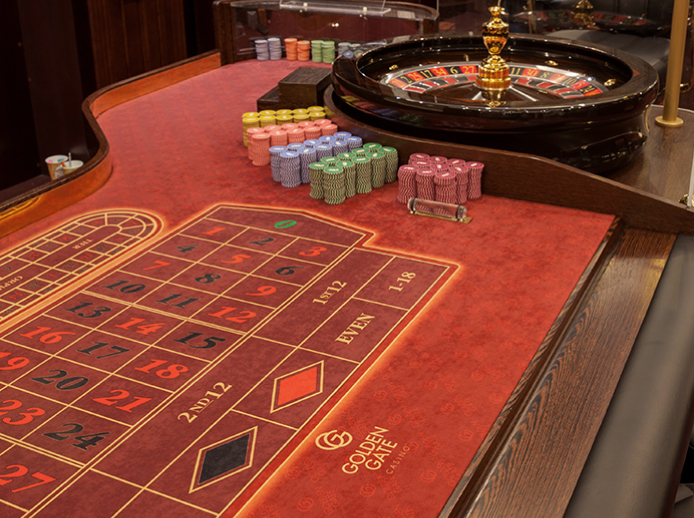 In American Roulette, you bet on:
Exact number
Even or odd number
Red or black
First, second or third dozen (each includes specific numbers)
Column (row of numbers)
Try out American Roulette in the elegant environment of Golden Gate. Our experienced casino croupiers will explain the rules in detail before starting each game and answer the questions while playing. Спробуйте американську рулетку в елегантному антуражі Golden Gate. Досвідчені круп'є казино детально ознайомлять із правилами кожної гри та люб'язно дадуть відповіді на запитання, які виникнуть у процесі.